Information and tools you need before you hire a private caregiver

Select a private caregiver that puts the best interest of your loved one(s) first. What do I mean by that?
It is important to note that not all private caregivers declare their income, and going down this route can impose serious financial risk on your loved one(s), as well as heavy consequences. It is so important to be well informed about hiring privately before you make any final decisions. The chart below breaks down the differences between hiring a private caregiver that declares their income, and the caregiver that does not. It may be easier and cheaper to hire a caregiver that does not pay income tax or have an agreement in writing, but it could lead to a difficult and costly situation down the road.
Need more convincing? When you hire a private caregiver that declares their income your loved one can capitalize on any any of the senior tax credits, which in turn will offset part of the caregiver costs over the year. This benefit could even mean that you pay less overall for caregiving services than if you had chosen to the non-declared option!
Hire a Private Caregiver Guide + 16 Templates
The guide will help you through each step of the hiring process so that your senior loved one(s) receive the best possible care at the right price. Included with the guide are hard copy templates that can be used digitally or printed and written out manually.
Templates included with guide (digital/printable):
Hire a private caregiver checklist

Caregiver application form

Caregiver job description

Senior care information form

Caregiver employment agreement (long form)

Caregiver employment contract (short form)

Pre-interview questionnaire 

Caregiver interview questionnaire

Reference check questionnaire 

Caregiver job post sample (copy and paste)

Daily senior care journal

Housekeeping checklist

Personal hygiene chart

Senior care invoice 

Tax receipt for senior care services

COVID-19 Screening caregiver form for visitors
Templates that you will receive in download:
Hire a Private Caregiver Checklist 
This checklist will help keep you organized and on task throughout the hiring process.
Caregiver employment application form template:
Application form template that you can send to potential caregiver candidates found through caregiving sites, and those who responded to your caregiver ad post.

This is STEP 1 in the screening process to narrow your search for an excellent private caregiver.
Pre-Interview caregiver interview template:
Send this template by email to potential caregiver candidates that you selected from the received application forms. Ask them to return it with a given deadline. You will get to see very quickly which candidates are serious, have nothing to hide, and are committed to earning a position as your senior care provider.

Full caregiver interview template: (person or virtually)
Get to know your potential candidates in more detail with these prepared questions.

You can add, edit, or delete parts of this questionnaire

Electronic form-fill or print this form

Remember to follow up with references to cross check these responses.

Reference check questionnaire template

:
Caregiver job

description form template:
This form is important to fill out and have on hand after you hire a private caregiver. You can auto-fill digitally or manually fill out the form.
The detail instructions in this form helps to ensure that the first few visits for both the senior client and caregiver provide an easier transition.

Job expectations are clear, and as a result avoid confusion.  By avoiding confusion, you can greatly reduce the level of stress.

When a caregiver enters a senior home and know what to do while visiting it helps the bonding process.

If certain tasks need to be completed in or around the residence, the senior will not have to describe the details of what to do.
*It is a good idea on the visit to take the caregiver around the residence and go over the job description form
Senior care information form template: ** MOST POPULAR**
10-page fillable form (all details needed for required care)

You can print out or digitally fill out send and save this form

This form is a valuable source of information for Doctors and Specialists when a caregiver takes a senior to an appointment

Important information to have access to in a medical emergency
*Should your caregiver need important information quickly, the digital format of this form can be accessed using a computer, phone, or tablet.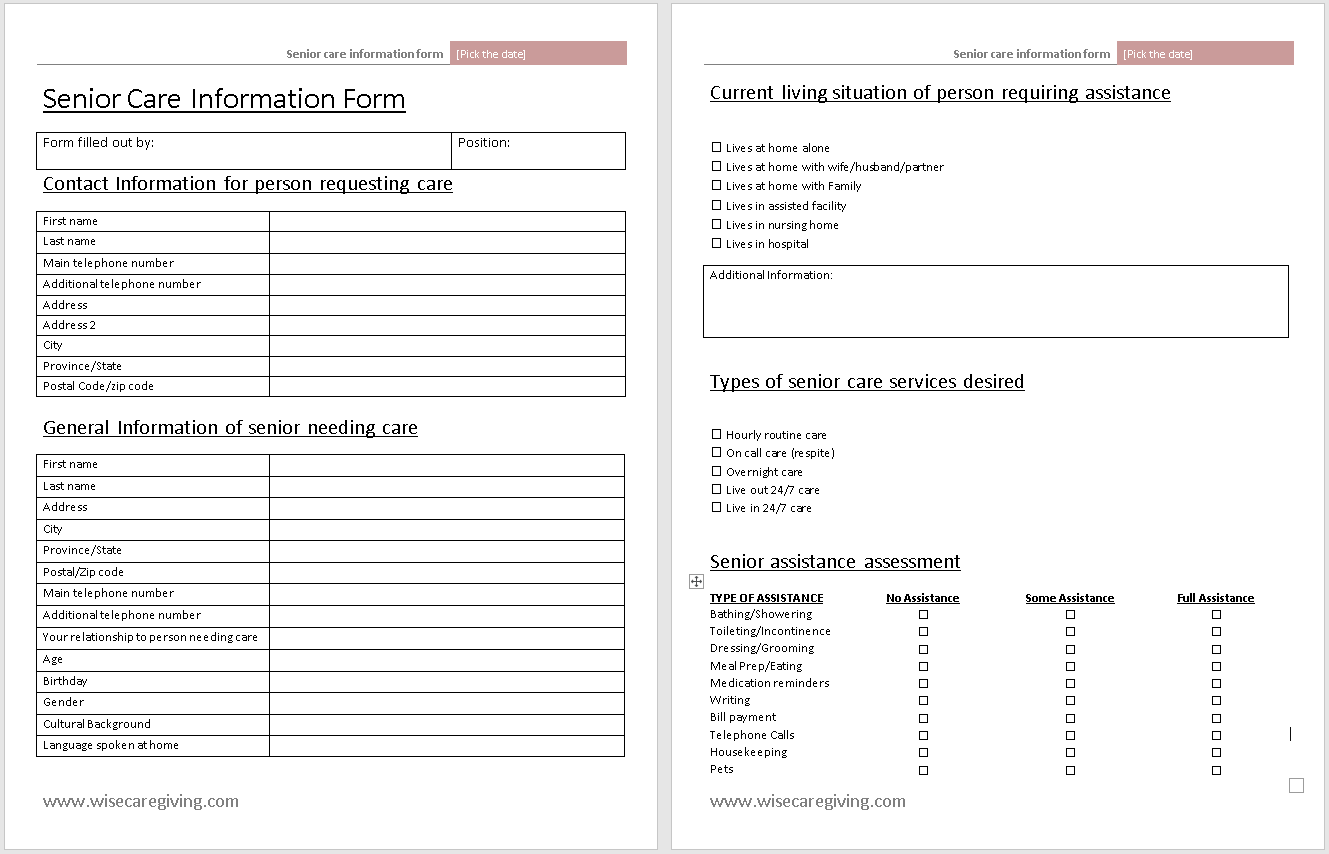 Caregiver employment agreement template: (long format)
Protect yourself the same way home care agencies do when you hire a private caregiver. 
Clarifies job duties and a schedule to follow when private caregiver services are provided.

Everything this document covers in writing:

All fees

Expenses

Reimbursements

Transport of senior

Payment terms

Lateness

Sick days/personal days

Vacation

Grounds for terminating service

You can customize this form 100%

Add, delete, or Modify however you like 
Six page caregiver employment agreement template:
Caregiver

employment

contract template: (short format)
Form fill / print and fill out manually

Customize this form (Add or delete fields)

Senior care invoice template:
This invoice is specifically for the senior care service industry.
All digital fields can be added, edited, or removed.

Formula calculations already in template!

Our technical IT assistant can answer any of your questions by email and help you with any changes that need to be made with this invoice template.

Easily add local tax rates if applicable.

If you are going to hire a private caregiver, this senior invoice template keeps all the senior private caregiver costs in order and up to date.

Simply send this downloadable template to your caregiver to use for future billing.
Daily senior care journal template:
Stay informed with this daily form- send this template to your caregiver and he/she will be able to fill it out after each visit

Good way to keep track in the event any medical issues should arise
Housekeeping checklist template:
helps keep house tasks organized (If they were done, and when they were completed)

Work efficiently (set days)

Safeguard seniors living area (safety is primary concern)

Save time from unnecessary communication 

Home remains a comfortable place to stay for senior(s)
Personal hygiene chart template:
Both the care team and your private caregiver will have the clear information that they need in order to properly care for and meet all the daily needs of the senior.
Basic ADLs (Activities of Daily Living) consist of self-care tasks that include:
Bathing and showering

Personal hygiene and grooming (including brushing/combing/styling hair)

Dressing

Toilet hygiene (getting to the toilet, cleaning oneself, and getting back up)

Functional mobility

Self-feeding
This chart is crucial when a care team of more than one person is in place who are responsible for the care of a senior. This chart is not only useful for seniors living at home, but also if your senior loved one who lives in a facility and the private caregiver provides additional personal care. 
Tax receipt for senior care service template:
Simple and organized way for your accountant to see the yearly caregiver service cost

Keeps accountant cost down by saving time, and efforts can be focused on applicable senior tax credits.

You can send this form to your caregiver to fill out or complete it yourself.

Fields will automatically calculate

Simply enter invoice amounts for each month
Tax receipt for senior care service template:
Templates included in download:
Hire a private caregiver checklist

Caregiver employment application form

Caregiver job description form

Senior care information form

Caregiver employment agreement (long form)

Caregiver employment contract (short form)

Pre-interview questionnaire 

Caregiver interview questionnaire

Reference check questionnaire 

Caregiver job post sample (copy and paste)

Daily care journal

Housekeeping checklist

Personal hygiene chart

Senior care invoice 

Tax receipt for senior care

COVID-19 Screening caregiver form for visitors