Ready to Use and Editable Senior Care Business Templates 
Senior care forms that you can customize to each senior client. H

ave the confidence, professionalism and protection required to operate a successful senior care business.
Do you currently operate a senior care business and want to focus on branding your office material?
Preview some of the templates you will receive in the download!
Senior client intake form template:
Time is precious when you are overseeing all operations of your senior care business. Spend your valuable time laser focused on vetting and qualifying prospects to determine if they align with your ideal client profile.
Senior care information form template:
After your first meeting family meeting to discuss your new senior client this is a professional way to collect personal information.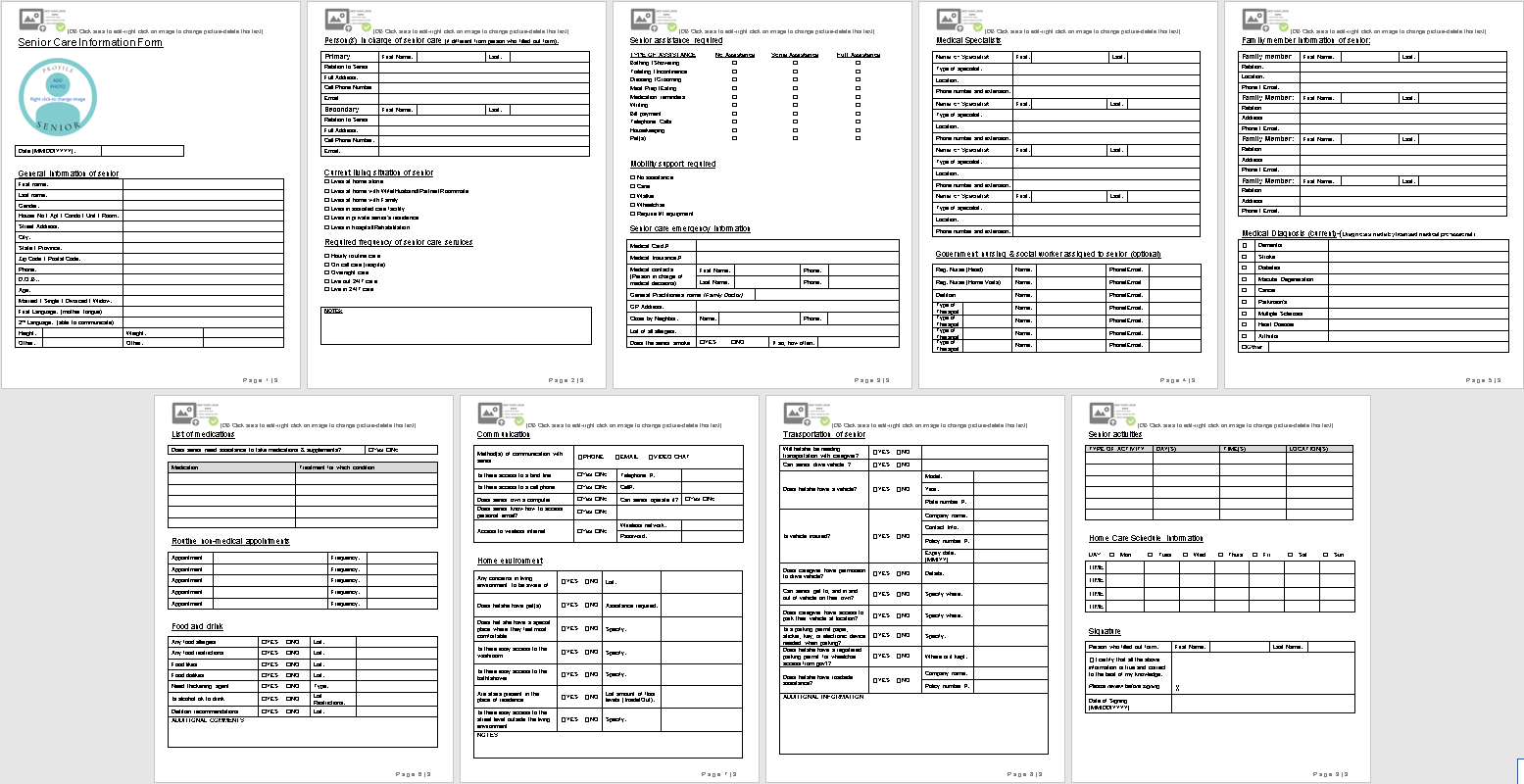 Senior fall risk assessment form: 
Assess potential client(s) and the degree of liability if you decide to take on the senior care mandate.
Senior care assessment-Detailed:
Professional assessment to know what your company should charge for the proposed senior care services that are wanted and needed.
Senior home safety / room in residence checklist:
Caregiver job description form: 
A detailed caregiver job description is one of the most important documents to have on hand as a reference to what the expectations are between the senior care business owner, and the new care worker employee. The family member in charge of the senior's care will be able to take part in filling out what the caregiver's on the job duties will be. It is certain that care needs will change over time, and so to will the expectations of the family. Make a point to review the job description every 3-6 months. 
Home care service agreement: (Terms of Service Agreement)
Have your new client, or family member in charge of senior care sign this agreement before the care mandate begins!  
Agreement includes hourly or set rate fees, expenses, reimbursements for outings, transporting senior, cancellation policy,  payment terms, and grounds for termination of service. You can customize this document to your own business. This signed document is a protection and clarity for the service your company provides.
Tailored and detailed invoice for a senior care business (home health agencies). 
This senior care specific invoice covers all the details of each caregiver visit. The spreadsheet formulas are ready to use and can be changed very easily by plugging in your custom numbers on the side panel of the excel sheet-the formula's are all done. No fuss and way less stress when it comes time to invoicing!
⭐Instructions provided to the side of the document. You can enter tax rates and mileage/km's amounts for outings in side column, and they will automatically adjust on the invoice.
Home car tax receipt for senior care services (Year end statement):
Provides a simple and organized way for clients and your accountant to see the total amount of senior care services rendered, as well as reimbursements throughout the year, by each month. 
Senior hygiene care chart template:
Senior housekeeping chart template:
Hire caregiver checklist template:
Caregiver employment application form template:
This form can be printed or filled out digitally. Your can also place this form into your contact form on your website for interested caregiver candidates to fill out, UPLOAD, and click SEND! Great screening tool before you invest time in a full caregiver interview.
PRE- Interview questionnaire template:
Screen potential applicants by sending them this form before you decide to set up an interview-huge time saver!
Full caregiver interview questionnaire template:
Ask the most important questions during a full interview with the help of this form.
Caregiver reference check questionnaire form template:
Make sure to know the background of all your care worker employees! This form is both important to your company's security, your senior clients, and the families of the senior clients. Your care workers are the heart and soul of your business, make sure you know them enough before you hire them.
Caregiver employment agreement template (Full detailed version): 
The important agreement form is between your senior care company and your new caregiver employee. A clear and detailed agreement tailored to senior care.
Caregiver employment contract template (simplified version):
COVID-19 Senior visit health form:
Have your employees fill out this form before they go on duty.
Senior transport agreement:
Secure your business and the well being of your senior clients with this agreement-a must have if you or your employees are taking senior clients out of their place of residence and transporting them in a vehicle.
Senior care competitor questionnaire(Call script):
Know who your competitors are and what they offer so that you can find your competitive edge!! Investors will want to see this report.
Home care bookkeeping checklist:
Get ready and organized for tax filing and never miss a credit or deduction that is owed to your business!
Food Log: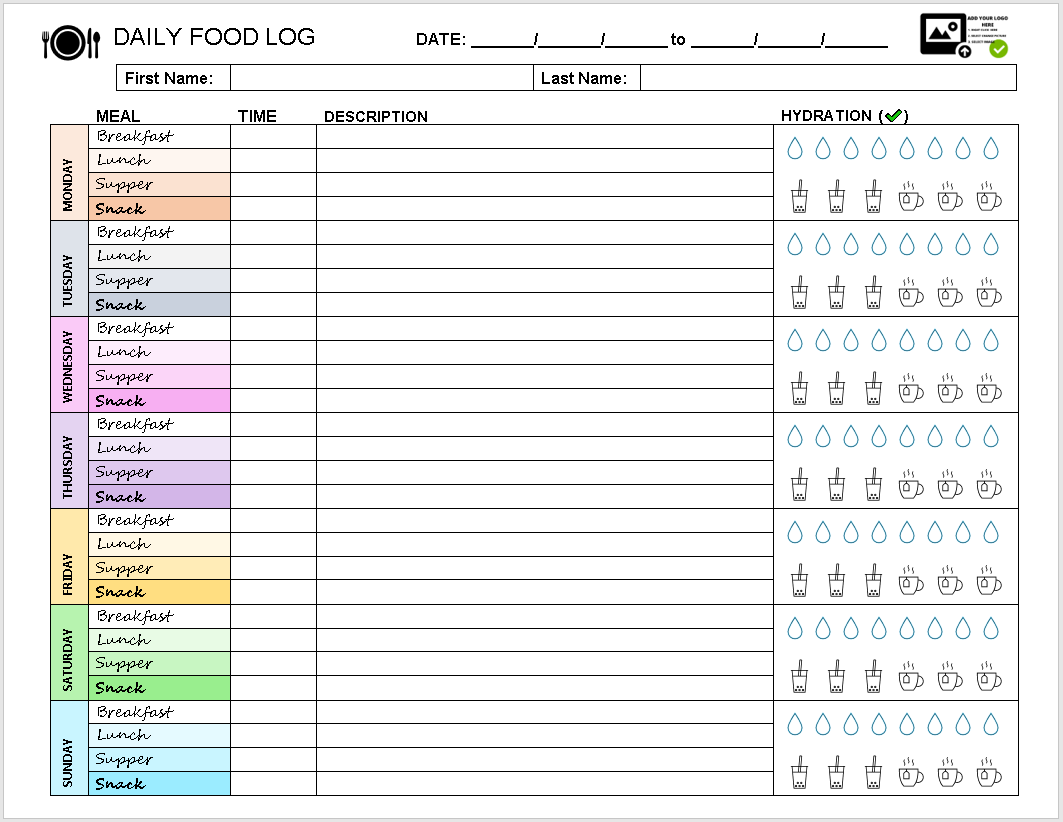 +Plus many more templates!
Are you ready to start a home care business from the bottom up? We have a bundle for that too!