How to become a caregiver and start a caregiving business for seniors
Industry forms and documents that are 100% customizable to each senior client. 

You will have the confidence, professionalism and protection required to be an excellent private caregiver, or small senior agency care owner.
Templates Included: 
If you plan to hire caregivers to work under your company, you will need all of the following templates:
Senior care information form

Fall risk assessment tool 🆕

Senior care quote template

Caregiver job description form

Terms of senior care service agreement

Daily senior care journal

Housekeeping checklist

Personal hygiene chart

Senior care invoice template

Tax receipt for senior care services template

Hire a caregiver checklist

Caregiver employment application form

Pre-interview questionnaire

Caregiver interview questionnaire

Reference check questionnaire

Caregiver employment agreement (long form)

Caregiver employment contract (short form)

Caregiver job post sample
Both the word documents as well as the Excel spreadsheets can be altered, added too or parts removed. Please do not hesitate to reach out if you need assistance with any of our forms or excel formulas. 
*All documents and forms can be reused form filled digitally, and printed.
Preview of just some of the professional caregiving templates below…
*TEMPLATES ARE AVAILABLE FOR PURCHASE INDIVIDUALLY OR AS A PACK. 
Senior Care Information Form:
10 page document with all the auto-fill information fields. This document can be printed out, or filled out digitally. This document gives you access to the senior care  information from your phone, tablet or computer and is a great tool in a medical emergency or appointment where more information is required.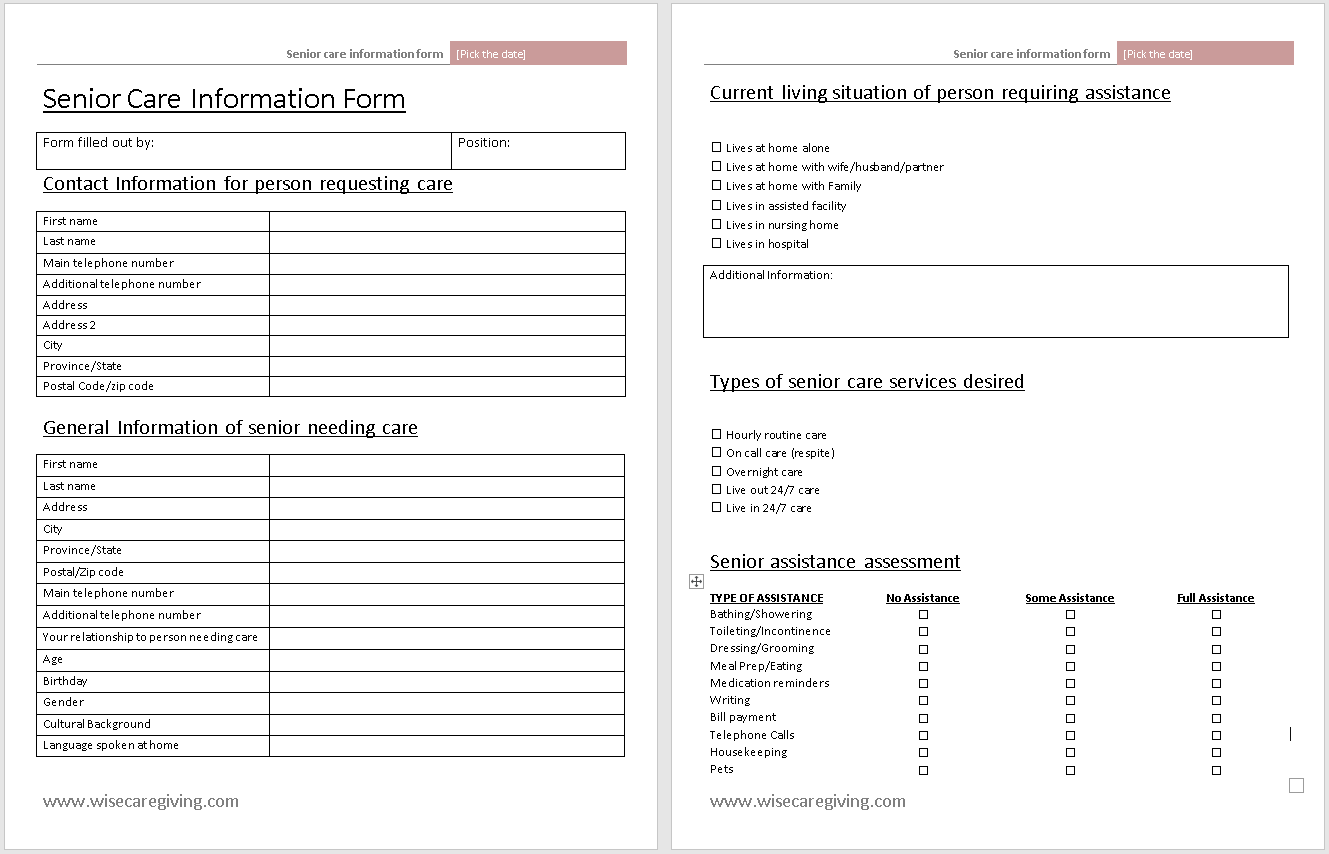 Fall risk assessment tool:
Senior care service quotation template:
After your first meeting with a potential employer this is the perfect and professional way to follow up. Demonstrate your note taking and listening skills.


Caregiver Job Description Form:
You've obtained the job and can now safely ask for the information needed in order to make your first few senior visits. The senior will be so content to not have to tell you every few minutes what to do. This step should be a must before your first visit.
Terms of senior care service agreement:
Protect yourself the same way care agencies do, and have your new potential employer know how serious you are about this job posting. This is a detailed document which clarifies all expectations while on duty as a caregiver. Includes hourly or set rate fees, expenses, reimbursements for outings, transporting senior, cancellation policy,  payment terms, and grounds for termination of service.


Caregiving Invoice Template (EXCEL):
Simply fill in or customize this invoice template, send and get paid! This invoice is tailored specifically for private caregivers. Detailed fields with calculations included. All fields can be added, edited,or removed. Technical assistance is provided by the IT technical assistant 24/7 via email. Tax rates can also be applied (custom to your location). This invoice is what clients expect to receive when paying for premium caregiving services.


Tax receipt for senior care:
Provides a simple and organized way for your employer and accountant to see the caregiving service expenses incurred throughout the year month by month.