Tips for best transition to senior residence
Moving to a senior into residence is a big change and can come with certain challenges. We can help navigate you through the process to make it easier.
1. Plan in advance
Find a moving company who has a lot experience moving seniors in your area to ensure a smooth transition to senior residence.
It is best to ask the care coordinator before transition to senior residence if they can recommend a reputable company for a better overall transition to senior residence experience.
Once you find a moving company and finalize the date, then fill them in on the situation, any details, and express some of the sensitivity towards the move.
A company who is accustomed to moving seniors will want to know any important details regarding the clients needs, as well as any of the residence rules and regulations as far as the move is concerned.
As for pictures of the room as well as the room measurements. You may need to leave furniture behind from the current residence, as well as purchase new items that will fit better into the new space. Try to keep the residence room as comfortable and familiar as possible, it will be a tremendous help the transition to senior residence.
Call service providers, utilities, newspaper & magazines and alert them well in advance of the move date and have them reconnect and redirect at the new senior residence on the exact day of the move.
Set up redirect of the regular mail through the post office for the first 4-6 months. This will allow more time to change the new address with everyone who needs it updated in there system.
Pack up yourself what you can in advance, and sift through what can be given away.
2. List of routines
Prepare in advance a list of daily and nightly routines for your senior loved one, or client. Here is a ready to use transition to senior residence template which you can customize and send to the care coordinator at the residence.
This list will give the new staff time to discuss the needs of your loved one and who will be best suited to assist your senior loved one from the care team once he/she arrives.
Day 1 will be off to a great start if the staff have a foundation to the care needs. From their is easy to make changes or adjustments based on the environment in the residence.
3. Organize a distraction
Create a solid plan for distraction on moving day. You could even book appointments on that day to buy time.
Plan for someone whom the senior trusts and is used to going out with to e present on this day. If you currently have a
private caregiver
who works for your senior loved one then this is a great task for him/her.
The time between packing up the current residence of the senior, and setting up in the new room in the residence should be be done in the least amount of time possible. Keep in mind to prepare yourself for any surprises that may cause a delay.
4. Moving day
Most important is to "time" the move between the current residence and the senior residence. Lead the movers to the new residence once they are packed up and ready to go. Alert the appropriate staff once you arrive before the movers unload, this will in most likely be the maintenance manager. The manager will then provide any additional information as far as where the movers can park, enter and if any protective carpets need to be put down.
While the movers set up to unload, this will be a good time to stand in the room and look over the room plan and make any last changes before the items begin to enter the senior residence.
As the movers enter the senior's room, immediately start to place the furniture and personal items in the appropriate places. 
Factors to consider when placing items:
Furniture, personal items, and decorations should be easily accessible for senior

Put all personal items that provide comfort and familiarity in close view and reach

Leave enough open space in order for senior to move around freely and safely. Remember to factor the space needed for a walker or wheelchair.

5. Plan to be present
Moving day, as well as the first week is a crucial time to be present for a successful transition to senior residence. Even with the most seamless move, it is still so new and foreign to your senior loved one. Change is not easy, especially when the decision to move was not made by the senior.
While you may see the immediate and direct benefits of the senior home, your senior loved one may not warm up quite as quickly to the idea of being in residence. Your loved one is experiencing major adjustments in their life as well as many environment changes.
Seniors who live with dementia face the highest degree of adjustments in the transition to senior residence, and this can be especially challenging.
Plan to be by your loved ones side for the first week in order to provide security, comfort, reassurance, and encouragement in the new senior residence. This is a good time to get accustom to the senior home routines, and get a chance to meet the main care staff working in your loved ones section of the building.
Tip: Place a large paper with room number on walker or wheelchair where it can be seen each time your senior loved is out of their room and needs a reminder of where their "home" is.
6. Personalize senior's room
While you are around a lot in the first week, you can take care of a few things to make the seniors room more custom to who they are and make them feel a lot more comfortable in the new environment.
Here are some examples of what you can do;
Hang paintings and pictures

Organize the closet(s), and drawers.

Make sure phone, cable, and any other utilities are set up

decorate the front door

Add pictures of family and most loved memories in a frame outside the front door
*Always ask for permission to do things when you hang things on the wall, a good practice to get in the habit of doing.
7. Simplify devices
Electronics should be programmed so that they are extremely simple to use. If your senior loved one has poor eyesight or suffers from dementia a good idea to make a television remote simple would be to make the most commonly used buttons and then cover the rest. Electronic stores sell universal remotes with large print.
The phone will be a very important way for you to stay in touch. You want to make sure that your senior loved one can easily reach the phone, and that it has large push buttons, has a higher volume for the tone and ring than a standard phone. Some phones you can even program numbers to pictures of people's faces or places. These items can be easily found on Amazon.
Create a plasticized card with favorite channels and program days and times. This is great for the staff to know.
Any additional personal information about customs and routines of your senior loved one is always much appreciated by the care staff.
If your loved one ever becomes agitated it can be very useful to staff to know what may help to calm the senior down and return to a happier version of themselves.
8. Label everything
Invest in a label maker from your local office supply store. It is very common for all items in a senior room to somehow get misplaced within the residence.
Rule of thumb:  When in doubt label, otherwise consider it fair game to end up in the hands of another senior resident.
9. Meet all management
Introduce yourself to all the staff who hold top positions in the senior residence. Make your presence known and what your hopes and expectations are of the facility. Offer your support if or when it may be more beneficial to have you present. At times additional care can be requested if the transition to senior residence is a challenge. The staff will work with you to make any changes that your senior loved one may need.
Meet the resident Doctor(s), arrange the appointments yourself with the Head Nurse and be present the first few visits. Just your presence and ability to communicate any additional information will be helpful, and the Doctor will have a better connection with your loved one. With more information and involvement, the Doctor be in a position to offer better care options as time goes on and the care level of your senior loved one increases.
Say hello to the manager of maintenance!! This introduction will go a lot further than one might initially think. The maintenance manager knows all the inner workings of the building and can pull many strings to make your life easier while your loved one resides at the residence.
10. Hire a private caregiver

What more families do now is hire private caregivers to be more present in the daily life of a senior loved one, and provide any extra personalized assistance. If the cost of the extra care is a main factor then what most people do is remove the extra residence services, and then direct the funds to hire a caregiver.
Private caregivers can perform 90% of the additional services that the residence will charge extra for and not only that, your senior loved one will have a one on one companion.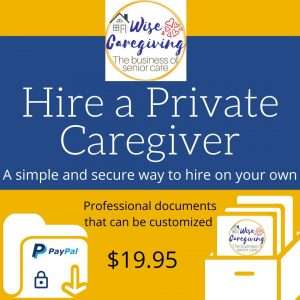 Hire the right caregiver and you can see and feel immediate results.

 The right caregiver can reduce or eliminate any fears of neglect or abuse within a senior home. To have a trusted presence beside family is beyond priceless. 
When you hire a caregiver separate from the residence gives you the opportunity to see the daily issues or situations from a detached stand point, and receive the full details of what your caregiver may see as a concern.
A private caregiver will communicate everything that is going on in the senior residence and not think twice, they only need to report to you.
Family members have every right to hire a caregiver, and allow them into the residence to be with your loved one 24/7 if or when it becomes a need.
When you have a good private caregiver they give you the gift of time to do the things you need to do in your own life.
Hopefully this article helps you and your senior loved one in the transition to senior residence. The team at Wise Caregiving would like to thank you for taking the time to read our ten best tips for this very important move. We wish you a successful transition.